LANDSCAPE & HARDSCAPE PRODUCTS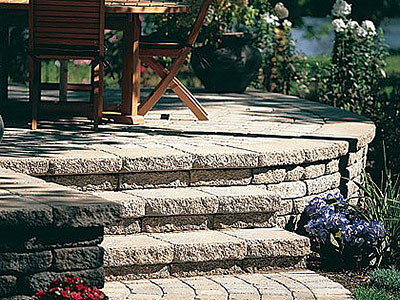 Here at Mathie Supply, we provide customers in and around North Canton, OH, with a large selection of high-quality masonry supplies that can be used to construct many exciting and helpful backyard and outdoor structures. We carry clay bricks and interlocking pavers to retaining walls and natural stone and brick to manufacture natural stone veneers, landscaping supplies, and more. We aim for the superior finishing, endurance, and quality, and we know that you need top-quality landscaping supplies and masonry. You can choose from Belgard pavers of different types and outdoor kitchen products and materials to create unique outdoor spaces. We can supply these products and materials in the required quantities and deliver them to your project site per your preferred schedule. We help residential and commercial clients create stunning outdoor spaces on their properties. Our team is here to help with product selection from the products we supply, such as the following.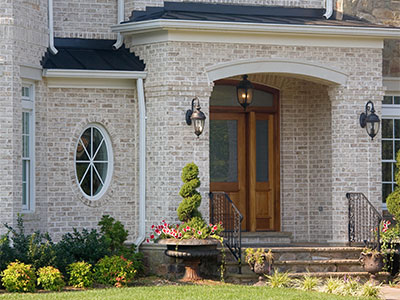 Brick
Read more about Brick »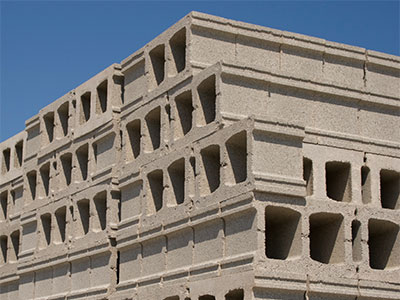 Concrete Block
Read more about Concrete Block »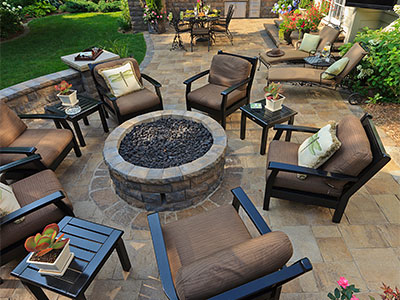 Pavers
We have an extensive selection of interlocking pavers in a wide range of sizes and styles and have positioned ourselves as the go-to source for both commercial and residential customers needing these and other landscaping supplies. Interlocking pavers provide solid landscapes and are ideal for constructing distinctive patios, poolscapes, fire feature zones, and decks. There is a wide selection of sizes, colors, and shapes. We have a mind-boggling selection of interlocking pavers made from concrete, natural stone, porcelain, marble, and brick. Because there are so many options, we will provide you with the details you want to make an informed decision about the many brands, styles, designs, and qualities. Our sales staff can discuss your project needs and offer suggestions to help you choose the right products. To ensure that your outdoor areas and installations look fantastic and last for years to come, we provide only the highest quality paver products and comprehensive construction services.
Read more about Pavers »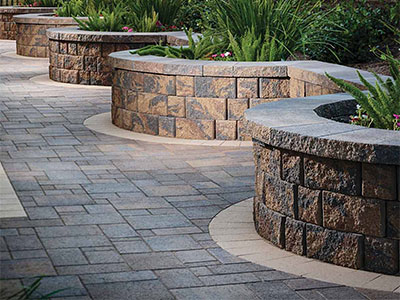 Retaining Walls
Retaining walls can be a crucial feature of landscape design. These structures are an excellent method to control soil erosion and protect boulders and other landscaping items from sliding onto the useable parts of your property. You can also install these features to demarcate sections in the landscaping, define flower beds and garden spaces, hold planters and create focal points in the yard or landscape. Let us change your unusable, sloping areas into zones that your children can play in. You can entertain guests on your new paved patio or deck by installing a broad range of Keystone, Belgard, and natural stone retaining wall structures. We can provide you with all the retaining wall products and accessories that you will need to have a beautiful new seating wall, terraced garden wall, multi-level landscaping wall, or raised planter wall constructed.
Read more about Retaining Walls »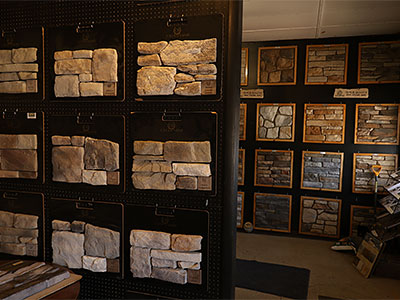 Stone Veneers
Stone veneer, often known as stone cladding, is a type of siding that is an alternative to heavy natural stone. Portland cement, metal oxide colors, and aggregates are mixed and poured into a mold to create cultured stone veneers. It's a popular accent siding choice for contemporary houses. Manufactured stone veneers are now often used indoors as well as outside. The material is versatile and can be used for many applications, including fireplace fronts, stove backs, and interior walls. Most stone veneers have fire and smoke ratings allowing interior and exterior installation. The veneers look and feel just like natural rock, only better. It's the most effective way to raise your home's resale value and bring in the most money. We have everything you might need for your new outdoor kitchen or to improve the look of retaining walls with high-quality stone veneer.
Read more about Stone Veneer »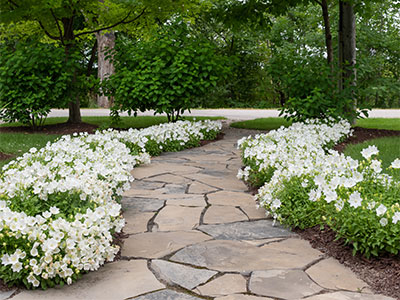 Natural Stone
Including natural stones in your property's hardscapes is a simple way to boost curb appeal and functionality. A broad range of outdoor constructions, including columns, fire features, waterfalls, decks, terraces, seat walls, edging, bordering, and ornamental elements, can benefit from natural stone's versatility. Using this adaptability to your advantage, you can give your house a uniform look by choosing suitable natural stone materials. Our stones are weather-resistant and come in a wide range of colors, sizes, and styles to meet the requirements of any outdoor construction job. Bluestone, flagstone, slate, granite, marble, and many more types of natural stones are just some of what we have. Natural stones are hardy and not impacted by climatic changes, improving your outdoor spaces' appeal, durability and longevity. Using stones of varying hues and striations allows you to give your garden or patio a one-of-a-kind look. They are ideal for traditional and modern-styled landscapes, making them versatile products.
Read more about Natural Stone »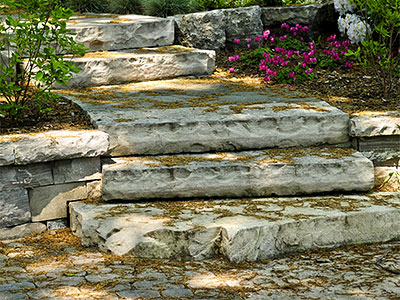 Steps
Read more about Steps »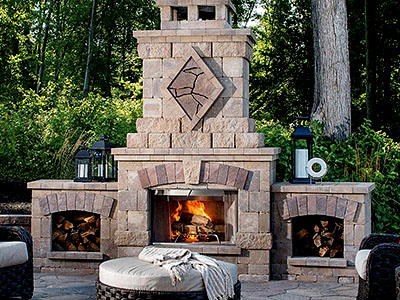 Outdoor Kitchens and Fireplaces
Read more about Outdoor Kitchens and Fireplaces »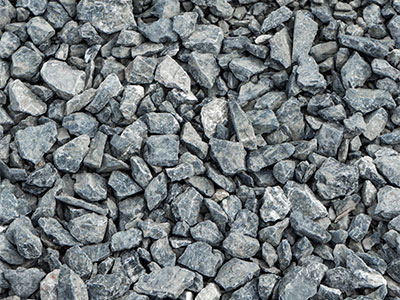 Other Products
Pavers, masonry walls, clay bricks, and sandstone are just a few examples of the specialized construction materials required for any outdoor living or landscaping project. We understand that this is only part of an exceptional outdoor environment design. As a complete source for hardscaping materials, we provide everything from brick and road pavers to patio pavers. We can assist you if you want a few pavers and stones for a private driveway or larger amounts for the parking lot of a business site. Our hardscape, masonry, and landscaping products are the best on the market. You can rely on our advice and insight to help you choose suitable hardscaping materials and landscaping equipment for your project. We have the workforce, transport options, and streamlined logistics to deliver commodities in quantities you need when you need them.
Read more about Other Products »


Use our first-rate materials in any garden or hardscaping project you have planned for your home or business. Our team is available to answer any questions you may have about the materials and products we provide and how we may assist you. Our company carries only the best quality natural stone, brick pavers, clay bricks, natural stone veneers, retaining wall products, and other landscaping supplies. Our company ensures that clients get superior service and timely delivery of their ordered products and supplies as per the schedules they need. We are committed to offering you quality and the best customer service no matter how big or small your requirement. Our experts are here to help with product advice and estimations. For more details, please call Mathie Supply at 330-499-2575 or drop us a line through this online form, and we will call you back to discuss the specifics.